84% of Doctor-Generated Income is Kept by Hospitals
"You don't generate any money. You're here to support doctors who do procedures. That's why we can't afford to increase doctor pay very much." This was the message given to the hospitalist group of one of the FairPayDoctor.com co-founders by administration at a hospital in the Florida panhandle several years ago.
Looking at the recently released "2019 Physician Inpatient/Outpatient Revenue Survey" by Merritt Hawkins, it looks like that message could not have been more wrong. Of 19 specialties highlighted, Internal Medicine was the 8th highest in terms of revenue generation for hospitals. However, internists were paid only 10% of that amount in salary.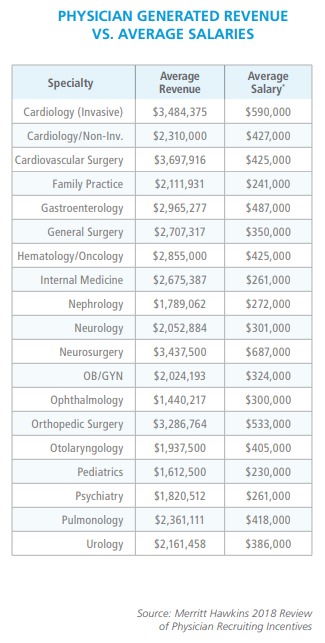 Doctor pay is relatively low
Overall, doctors' salaries were a mere 16% of the fruit of their labor. While internists were the lowest remunerated in terms of percentage, most of these numbers are astounding in terms of how poor of a job doctors are doing to fight for their income.
For example, the top performers by far for hospital income are the cardiovascular surgeons. One CV surgeon generates almost $3.7 million for her hospital. Yet, she takes home a paltry 11% of that.
Family practice, long regarded as a poorly paying specialty, still managed to bring home over $2.1 million in annual income for their hospitals. Their reward? Just an 11% piece of the pie.
Want to know how much you're worth? General surgeons, you're worth 13%. OB/GYNs, you're worth 16%. Same with orthopedic surgeons and gastroenterologists. Even the highest-paid specialties, from a percentage standpoint, only topped out at 21% (ophthalmology and otolaryngology, in case you're curious).
It seems that hospitals should be able to give a larger share of the revenue to the ones responsible for creating it, so what gives? Where is all this money going? Why is doctor pay so low?
Who's to blame?
We have some theories, and there's likely blame to go around. However, a look at one graph gives us the answer: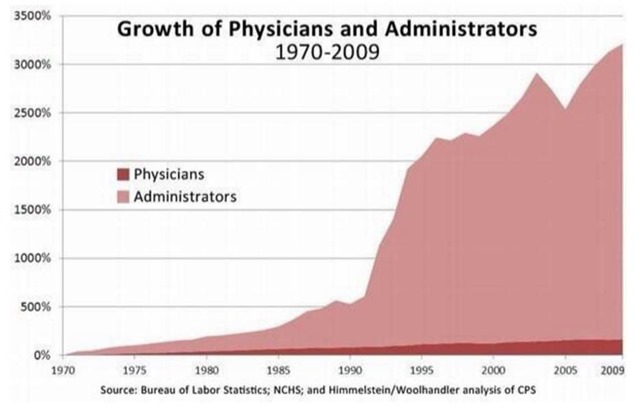 For the colorblind among us, that little line at the bottom of the graph, creeping up with a slope close to 0 over 40 years? Physicians. And the line above it that looks like Mount Everest, rising into the dizzying heights off in the horizon? Yes, that's hospital administrators.
But let's not forget some others who deserve a little scorn. UnitedHealth Group's CEO was paid $18.1 million in 2018. Optum's CEO was paid even more, $21.2 million. The former CEO of Mylan, the company behind the EpiPen price gouging, received $98 million in compensation in 2016.
What should we do?
So what can be done about this? For the fait accompli-addled, you can put your nose down to the grindstone, work harder, and be grateful that you might pay off your medical school debt by the time you retire, so as not to saddle your children with that burden. But for everyone else, we believe the answer is increased workplace transparency. Specifically, we will only make our fair share if we come together. To that end, FairPayDoctor.com is crowdsourcing information on physician salaries, workplace conditions, and contract details to illuminate the ways that employers take advantage of doctors.
As a profession, we need to do a better job fighting for ourselves. Our scope of practice is being eroded, our job security is slipping, and we are becoming viewed more and more as replaceable objects, simply a warm pair of scrubs. Doctor pay is a sad casualty of this reality.
Physicians, do you feel like you're worth more than 16%? If so, join us. It's a war on doctors out there. With apologies to a certain TV show, winter is coming, and we need all the help we can get.
You can read the full Merritt Hawkins report here.